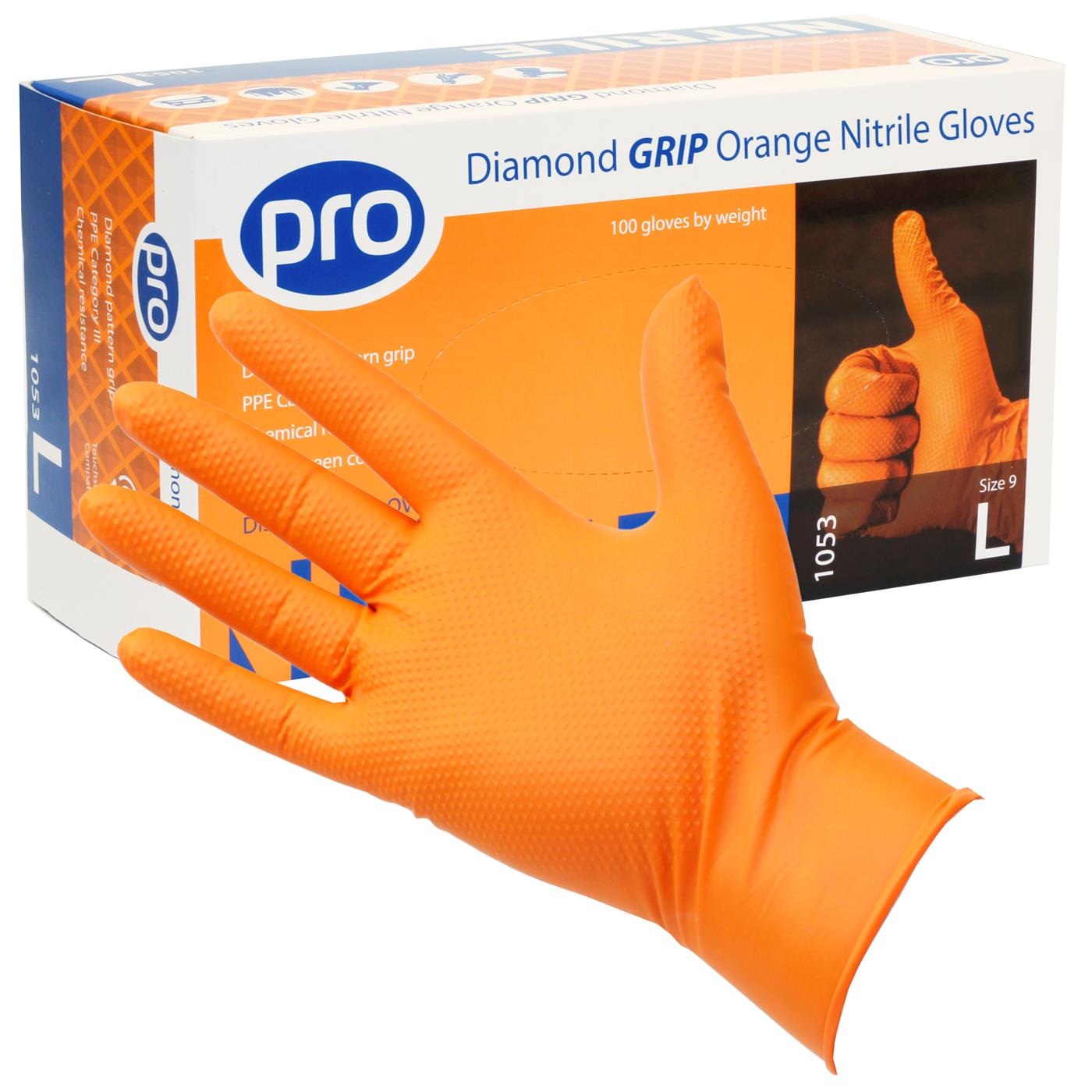 Out of stock
Please select all options to be notified when that item is in stock.
Combination unavailable.
Thank you!
You will be notified when this item is in stock.
PRO Diamond Grip Orange Nitrile Gloves
Extra strength, protection & grip
PRO Diamond Grip Orange gloves are extra strong nitrile with a diamond pattern to increase grip in slippery conditions. Perfect for the most demanding applications, especially popular in industrial and mechanical settings, due to their high level of protection, stretch and grip. PPE Category III certified providing chemical resistance for peace of mind.
Diamond pattern for superior grip
Double thickness of standard nitrile
PPE Category III

EN 16523-1:201
EN ISO 374-1:2016 +A1:2018/Type B
EN ISO 374-5: 2016

Vibrant orange colour
Beaded cuffs
Powder-free and latex-free
Touchscreen compatible
Food safe EN 1186
AQL 1.5
Extra thick, whilst allowing the user comfort and dexterity due to the incredible stretchiness of the glove. More than double the thickness of regular nitrile with approximately 9 newton tensile strength.
Chemical resistance includes protection against sodium hydroxide, hydrogen peroxide and formaldehyde (speak to customer service for specific break through levels). Together with protection against bacteria, viruses and fungi.
Suitable for any task where protection and grip is paramount whilst allowing the user comfort when wearing for extended periods. Popular with mechanics and for car and vehicle maintenance.
Medium and Large have 100 gloves in each box, Extra Large and XXL contain 90 gloves in each box. Each full case contains 10 boxes of gloves.
I am an oil heating engineer, I ordered these having tried several other brands and been disappointed. They are very good quality and are exactly as described.
Walker oil heating services ltd
27 August 2023
Excellent gloves. Very rapid delivery and excellent service
William Willis
13 August 2023