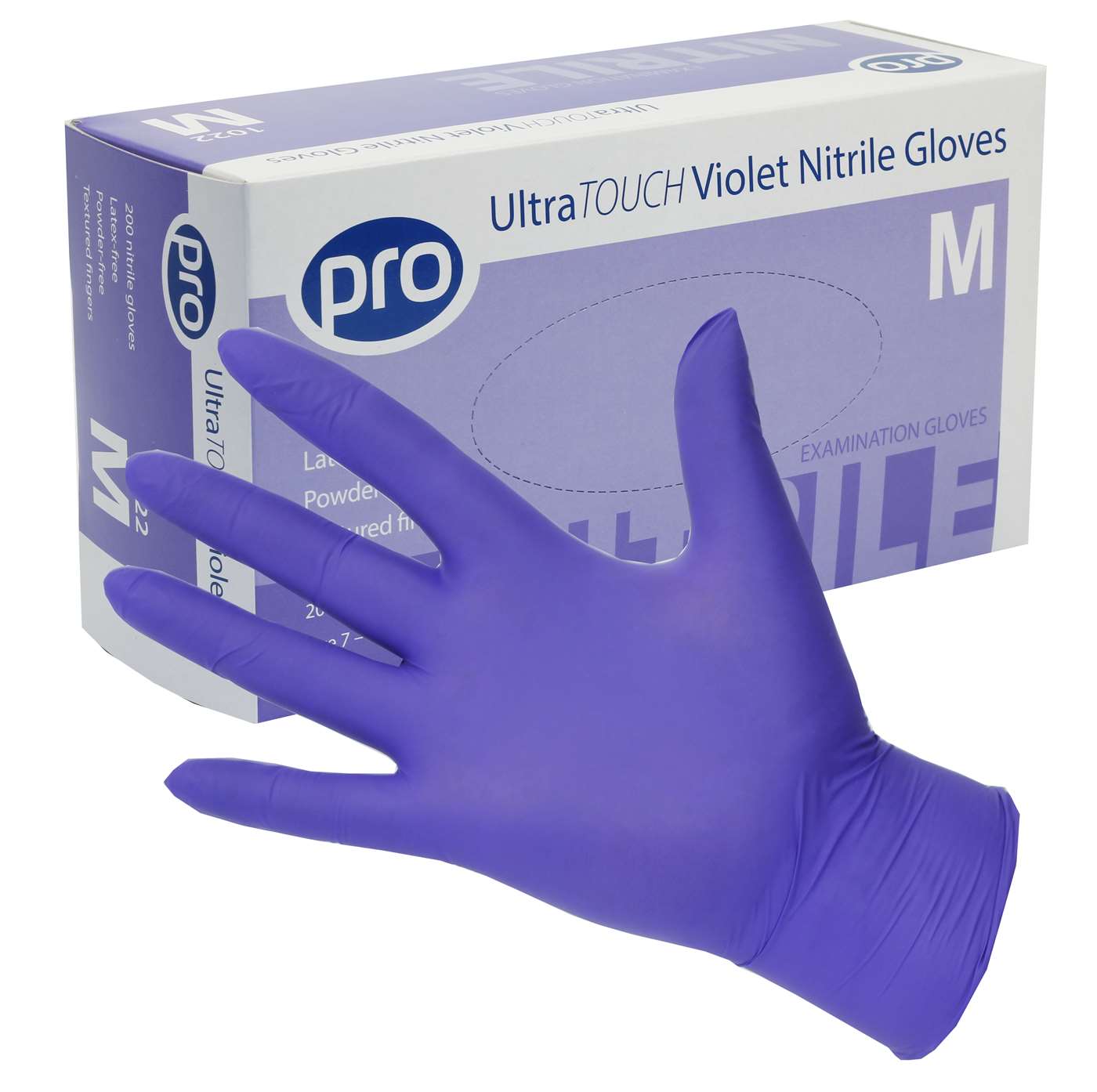 Out of stock
Please select all options to be notified when that item is in stock.
Combination unavailable.
Thank you!
You will be notified when this item is in stock.
PRO UltraTOUCH Violet Nitrile Gloves 200's
Approved for medical use, lightweight & sensitive
Medical Grade PRO UltraTOUCH nitrile gloves offer a completely new level of comfort and sensitivity to the nitrile glove user. Thermo-responsive, stretching to the shape of your hand as they are warmed by the skin. Giving the user increased sensitivity and comfort, yet offering excellent strength and stretch at the same time.
'Second skin' sensitivity
Powder-free gloves
Latex-free gloves
Textured fingers
UK Category III PPE, EN 374, AQL 1.5
UKCA Class I Medical Device
Suitable for chemo drugs
UltraTOUCH violet examination gloves are the closest to a 'second skin' that you will find. Micro-textured fingers to give good grip in wet conditions, whilst still maintaining great sensitivity and superior stretch. Medical grade nitrile gloves, offering excellent chemical resistance and strength. The perfect balance between comfort, sensitivity and protection.
The thinness of these examination nitrile gloves, together with their UKCA Class I medical device compliance and PPE Category III certification, make UltraTOUCH gloves particularly popular with dental and medical practitioners or anyone that requires increased sensitivity and stretch whilst ensuring superior protection. The thin essence of these popular nitrile gloves, intentionally gives the user greater sensitivity, yet the stretchy nature ensures that they protect the user.
Suitable for use with chemotherapy drugs. Free from latex proteins and powder free for allergy sufferers.
Gloves are boxed in 200's (by weight) for even better value for money. Each case contains 10 boxes of 200 gloves.
What you get in the box is what you expect to get.
Mr Richard Blackston
3 December 2023
Perfect for the job light and sensitive tips.
Mubina Willis
28 August 2023
GOOD QUALITY FOR THE PRICE. NOT AS TOUGH AS THE LONG CUFF VERSION BUT A LOT MORE PAIRS PER BOX AND IDEAL FOR MILKING COWS
P Roff & Son
22 August 2023
I always buy the same gloves and the latest purchase were from a new batch. The way the gloves were packed in some of the boxes was not up to your usual very high standard but overall they were fine.
Mr Richard Blackston
21 May 2023
Best Price in town
Stuart Russell
4 May 2023
Very good quality , do what they should
Stuart Russell
4 May 2023
All good
Trish Kershaw
28 February 2023
Very good value for high quality product.
jeanie martin
27 February 2023
These gloves are very good quality and are also quite a good fit, too.
PHILIP BUTTERWORTH
19 February 2023
Equality and presentation back to the usual high standard
Mr Richard Blackston
18 November 2022
Ideal for my requirements
Anonymous
3 July 2022
Great products.Highly recommended.
TU NGUYEN
14 March 2022
Great fit and feel however proud to breaking when handling oil for long periods.
Endulge Therapy
7 February 2022
fit very well you don't know you got them on would be even better if they were biodegradable
Anonymous
19 January 2022
These are our favourite gloves, nice and thin so that it almost feels like you have nothing on . Great to work with and in a box of 200 .
SNOB
21 November 2021
I am extremely happy with the quality of the nitrile gloves I ordered. The order was straight forward and was received within a couple of days. I have had any complaints from staff.
Evelyn Lowles
15 February 2021
Excellent quality in how they perform.
Endulge Therapy
11 October 2020
good fit
Sally Enderson
29 August 2020
Very comfotable to wear, even for long periods, seem pretty durable, haven't ripped any putting them on, would have got 5 stars if they were a bit cheaper
Tony Byne
18 July 2020
Fantastic gloves. Robust yet sensitive, still allowing one to feel tactile sensation. Also an amazing colour which is always important!!
jeanie martin
18 July 2020
Excellent quality, very resistant to tearing. Will definitely purchase again.
David Morley
23 May 2020
Not as strong as the gloves I usually use for my cleaning business but would be suitable for lighter work or the beauty industry.
Anonymous
11 March 2020
Nice to wear and a good price
-->
3 February 2020
Have recently needed to us this type of glove when applying surgical stockings and needed something very pliable yet also very strong. Exceptionally pleased with these and would definitely orger again.
Hilary Childs
22 February 2019
Excellent tactile qualities, great textured finger tips, attractive colour and good value.
Lester Russell
4 May 2017
Very good quality, fits well no leakage which is important to us in healthcare.
Sharon Taylor-Brown
6 March 2017