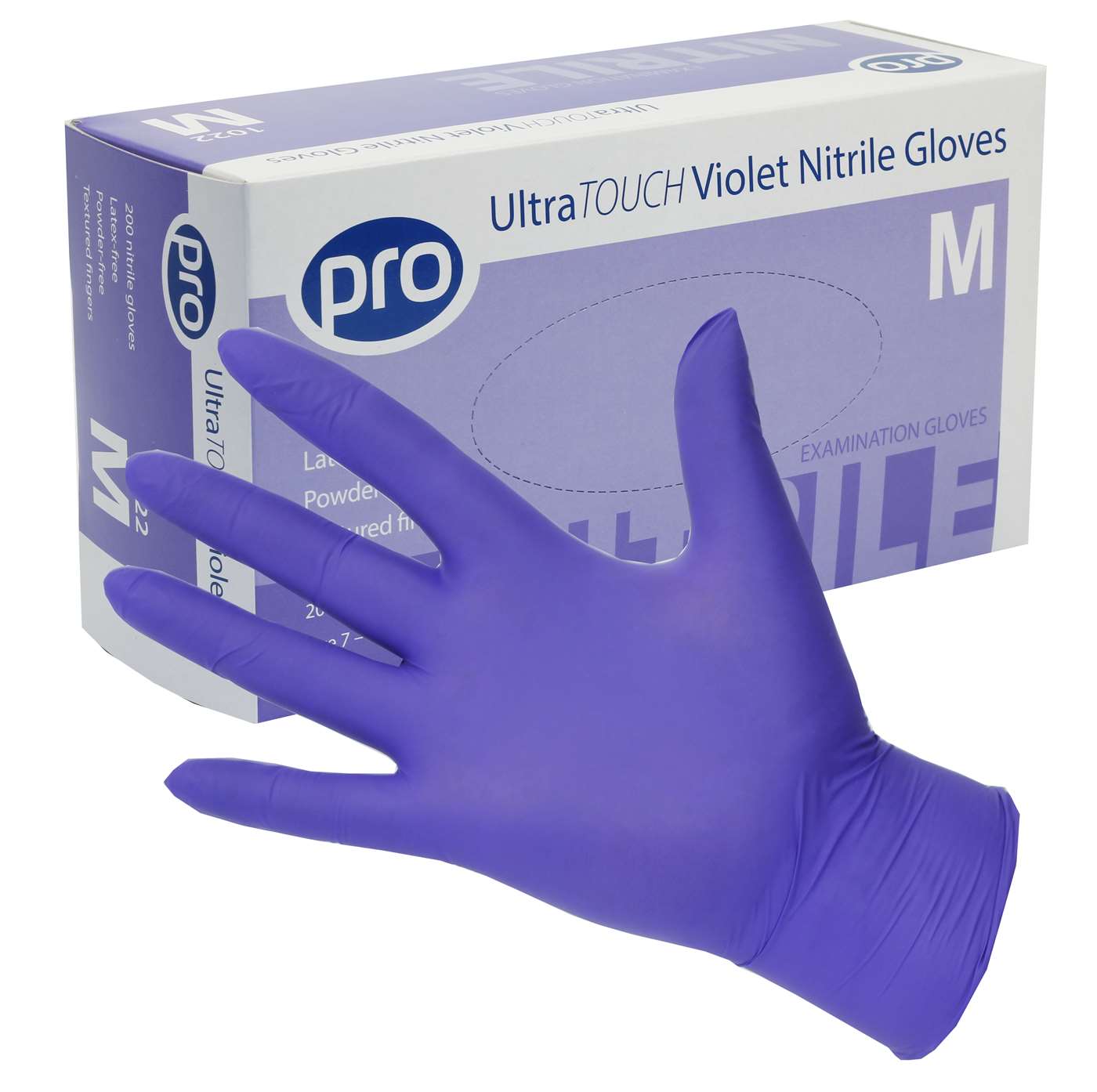 Out of stock
Please select all options to be notified when that item is in stock.
Combination unavailable.
Thank you!
You will be notified when this item is in stock.
PRO UltraTOUCH Violet Nitrile Gloves 200's
Thin, stretchy and very comfortable yet tear resistant with good grip. Popular with dentists, ideal latex replacement.
PRO powder free PRO UltraTOUCH nitrile gloves offer a completely new level of comfort to the nitrile glove user. Most gloves of this type are tight fitting, and often require the wearer to move up a size, but UltraTOUCH are thermo-responsive, stretching to the shape of your hand as they are warmed by the skin. If you try one on one hand and a latex glove on the other, the relaxed fit of the UltraTOUCH becomes immediately apparent. Of the different thicknesses of Nitrile we offer, the UltraTOUCH is the closest to a "second skin" that you will find and dexterity is on a par with latex. Nitrile gloves also have better chemical resitance, resistance to acids and oils when compared with standard rubber (latex) disposable gloves. The fingers are micro-textured to give good grip in wet conditions.
Users in a variety of industries are finding that Ultratouch gloves offer greater comfort, protection and dexterity than latex, with the added bonus of freedom from any latex proteins and powder free.
Boxed in 200's for even better value for money. Each case contains 10 boxes of 200 gloves.
Ideal for my requirements
Anonymous
3 July 2022
Great products.Highly recommended.
TU NGUYEN
14 March 2022
Great fit and feel however proud to breaking when handling oil for long periods.
Endulge Therapy
7 February 2022
fit very well you don't know you got them on would be even better if they were biodegradable
Anonymous
19 January 2022
These are our favourite gloves, nice and thin so that it almost feels like you have nothing on . Great to work with and in a box of 200 .
SNOB
21 November 2021
I am extremely happy with the quality of the nitrile gloves I ordered. The order was straight forward and was received within a couple of days. I have had any complaints from staff.
Evelyn Lowles
15 February 2021
Excellent quality in how they perform.
Endulge Therapy
11 October 2020
good fit
Sally Enderson
29 August 2020
Very comfotable to wear, even for long periods, seem pretty durable, haven't ripped any putting them on, would have got 5 stars if they were a bit cheaper
Tony Byne
18 July 2020
Fantastic gloves. Robust yet sensitive, still allowing one to feel tactile sensation. Also an amazing colour which is always important!!
jeanie martin
18 July 2020
Excellent quality, very resistant to tearing. Will definitely purchase again.
David Morley
23 May 2020
Not as strong as the gloves I usually use for my cleaning business but would be suitable for lighter work or the beauty industry.
Anonymous
11 March 2020
Nice to wear and a good price
-->
3 February 2020
Have recently needed to us this type of glove when applying surgical stockings and needed something very pliable yet also very strong. Exceptionally pleased with these and would definitely orger again.
Hilary Childs
22 February 2019
Excellent tactile qualities, great textured finger tips, attractive colour and good value.
Lester Russell
4 May 2017
Very good quality, fits well no leakage which is important to us in healthcare.
Sharon Taylor-Brown
6 March 2017