Katrin Plus EasyFlush One Stop 2 Ply Paper Hand Towel 345379
Z-Fold white interleaved and perforated flushable paper towels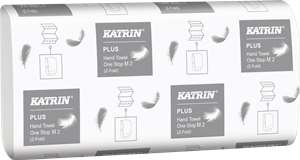 A fast-dissolving flushable paper hand towel made from pure pulp tissue. Ideal for washrooms with problems with blockages. The paper is approved for direct contact with food and has been dermatologically tested and approved.
The paper is similar to a Z-fold but has an extra half fold top and bottom and there are perforations between each sheet.
Each towel is 20 x 25.5cm when unfolded and there are 144 towels in each sleeve. Each case contains 21 sleeves for 3,024 towels per case. The paper is certified under the Nordic Swan Eco Label.
Product downloads