Katrin Classic Blue Wiping Roll 38cm x 380m 464262
3 ply, 1000 sheets per roll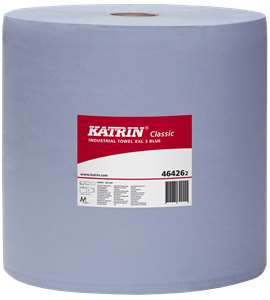 The Katrin Classic XXL 3 Blue wiping roll is made from a bulky 3 ply tissue, containing some recycled pulp, but still a top performer. The nice big sheets give you a great handful and are widely used in the automotive trade as a rag replacement, in catering as a tea towel, and by dairy farmers as an udder wipe.
Customer Product Reviews
Nicola Fletcher 6 March 2017
Really durable and withstand a lot of scrubbing without breaking up. Bought as a replacement to traditional workshop rags and very happy with the product.
Elizabeth Taylor 11 March 2017
Good, strong, absorbent paper which is useful for a range of jobs around the house and garage.